August 27, 2018 - In This Issue
- Come Celebrate With Us This Friday
- Congratulations On A Great Quilt Show
- New Fabric
- New Pressing Mats In Stock
- Classes
- BERNINA - Last Chance To Trade In/Trade Up & Software/Midi Hoop Bundle
- Register For A Free Software 8 Webinar
- Spotlight Item Of The Week
YOU'RE INVITED!
Come join us this Friday as we celebrate our customers, and enjoy one last day of summer! Stop in and say hello! We will be serving ice cream from The Moose and More.
Friday, August 31, 2018
2:00 - 4:00
Congratulations to everyone who participated in last weekend's quilt show. The talent demonstrated was simply amazing!
I have been here at the Cortez Quilt Company over four years now. In the past, I have always worked on Tuesdays, so never had many opportunities to attend the monthly guild meetings. Because of this, I have missed the show and tell, and have only seen the projects that customers have brought into the store to share. I was truly blown away, and very honored to be able to see the completed quilts and projects that were at the show. It is really fun to see how a piece of fabric can be turned into such a work of art.
Thank you for letting the Cortez Quilt Company and More be a small part of your artistic endeavors! ~ Aimee
Your next project can shine like a diamond with this new collection, Shiny Objects. Beautiful designs with a sparkle! You will be ready for a night out on the town, or add an elegant touch to your home decor.
NEW ITEM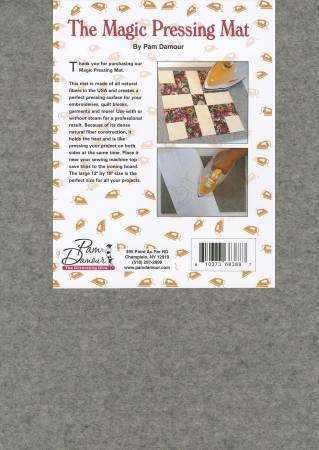 We now have in stock various sizes of the pressing mats. Made of 100% American wool, these mats will hold the heat of your iron. It is like pressing from both sides of your fabric at once. These are great for your pieced blocks, applique, or embroidered blocks. Furthermore, the heat does not transfer down into the surface below, allowing you to place this mat right next to your machine for convenience.
Embroidery Club: Applique in the Hoop
Thursday, August 30, 2018
10:00 p.m. – 5:00 p.m.
$25
Enjoy creating this trivet, embellished with elegant Dresden designs. This trivet looks sophisticated and intricate, but this traditional quilting pattern has been created for embroidery to be fun and effortless. You'll learn how to applique using your embroidery machine featuring two different techniques and two different stabilizers. this project is compatible with any machine with an embroidery capability of 5.5″ X 5.5:"

Embroidery Open House
Friday, August 31, 2018
10:00 a.m. – 9:00 p.m.
$25
Finish your project from Embroidery Club or work on a new project. We have additional patterns for you to practice your applique skills learned yesterday. If you attended Embroidery Club on 8/30, join today's Open House for $15. This event is a great chance to sit down and work on that project you have been anxious to get to. Ann and Todd will be here to guide you along. Nothing is better than a chance to sew with friends!
Trapunto/Thread Painting Class
Thursday, September 6, 2018
10:00 a.m. – 3:00 p.m.
Guest Instructor: Shanna Stordahl
$18.00
Panel Required
Trapunto and thread painting make the rooster and flowers come alive with a 3-dimentional look. The colors will become more vivid when painting with different colors of thread. Please call to reserve your panel – we have a limited supply.
Sew Days #5: Card Case
Thursday, September 6, 2018
5:30 p.m. – 8:00 p.m.
$5.00, Kit Required
Skill Level: Beginner
Here is another chance to get into this popular class! This project is fun, fast, and economical = gift giving potential. You will learn how to use a fusible interfacing, plus how to put in a professional style snap. Come join us for a fun and educational evening out! Bring a friend!
Creating Impressionist Landscape Quilts
Friday & Saturday, September 7 & 8, 2018
10:00 a.m. – 5:00 p.m.
$50.00
Guest Instructor: Susan Madden
Learn to create a landscape quilt using your own photo. You'll learn to make a quilt pattern from your photo and to create your image in fabric using raw edge applique. We'll talk about composition, color, and fabric choices that work well in translating your photo into a a quilt and you'll get started on creating your own unique quilt. If landscapes don't float your boat but flowers do, you can work from a close-up photo of a flower to create a flower portrait in this class.

Click Here To See More Classes!


YOU ONLY HAVE A FEW DAYS LEFT TO TAKE ADVANTAGE OF THIS SALE!
Have you been wishing for a BERNINA to love?!? Or, perhaps you are ready to add to your collection of multi-generational BERNINA machines? Wait no longer. For the month of August, BERNINA is offering a Trade-In/Trade-Up program. With this program, you may trade in ANY machine, regardless of make or model, to receive 25% off of the MSRP of ANY new BERNINA machine. Furthermore, you can qualify for 0% interest financing to help you pay for your new BERNINA! Just ask any of our qualified staff to help you find the right machine for your needs, without any high pressure tactics.

Happy 125th Anniversary, BERNINA! In honor of this big event, BERNINA is celebrating by creating beautiful GOLD special editions of the 880 Plus and 790 Plus! Purchase either of these commemorative machines, and you will receive $3,600 dollars worth of golden goodies free! These special packages include:
• 125th Anniversary Suitcase System
• 125th Anniversary Accessory Bag
• Golden Adjustable Ruler Foot #72 in Commemorative Tin*
• Exclusive Golden Scissor Set with Rotary Cutter
• 125th Anniversary Quilt Kit featuring Amanda Murphy's Jubilee Fabric Collection
• 125th Anniversary Rulerwork Ruler Set
• 125th Anniversary Golden Foot #1 in Commemorative Tin*
• 400+ Embroidery Designs on Anniversary Edition USB Stick
• Instant Savings Off Future Purchases
August Accessory of the Month
Have you been thinking about purchasing the BERNINA Software, which enables you to have limitless embroidery capability? Now is a great time, as BERNINA is offering a free Midi Hoop, with the software purchase, or upgrade. Call or come by the store for more info. You have until August 30th to take part in the promotion!
Software 8 Webinar – All About Applique
Join BERNINA for a free webinar featuring the applique tools included in BERNINA Embroidery Software 8! The webinar is September 12, 2018 at 10:00 a.m. or 6:00 p.m (all times CST). This webinar is open to everyone!
To register for 10:00 a.m., click here.
To register for 6:00 p.m., click here.
Spotlight Item: Patterns ~ 20% Off

Now that the Quilt Show is over, are you looking for a new project? We have plenty of patterns in stock to choose from! Offer expires on Saturday, September 1, at 6 p.m.You must mention that you saw this offer in the Quiltzette to receive the discount.
"Art is not what you see, but what you make others see."
-Edgar Degas